Volkswagen Sucks
If you are considering buying a Volkswagon, make sure:
You live near the dealer for those constant repairs
You don't mind major and constant car problems
Repeat repairs of the same problem doesn't make you upset
You have a second non-Volkswagon to rely on (or multiple Volkswagons to swap in/out of the repair shop)
The high risk of a car fire doesn't bother you
You have plenty of time to argue with the car manufacturer
You don't mind wasting time and money.
What ever happened to quality? And what happened to standing by the quality of your product?
I wonder the actual tests Volkswagon puts their cars through before rolling them out to the public. Many VW owner have the same problems and complaints with their cars. You can find many customer complaints about VW cars at the NHTSA (National Highway Traffic Safety Administration) website. Volkswagon has very little customer satisfaction.
I have had re-occurring problems with my 1999 Jetta and now that it is no longer under warranty the same things that were replaced numerous times while under warranty I now have to pay for or fix myself. If the items were replaced with parts that had a longer life or was of expected quality I wouldn't be complaining and this website would not exist. VW sells poor quality and is a company that isn't committed to making things right. I found it better to warn the consumer before they waste their money. Don't drink the VW Kool-Aid!
Its not like VW owners tear-up their cars. Most are a bit protective of their precious VW. I got over that a long time ago. My car has less than 27,000 miles on it right now and I think I've had maybe someone ride in the back less than a handful of times over the years. And I refer to it as my "piece-of-shit" car.
Volkswagon's recall method is terrible. They have documented cases of re-occurring problems and only appear to issue recalls if there is the chance the car will catch on fire because of a flaw (and yes, this appears to be common with VWs). They won't do a recall in order to fix something they know will break (unless there is a large number of known serious injuries). They even release re-occurring problems in service bulletins to their service departments. This doesn't really help the consumer.
As my warning to the consumer: Volkswagon sucks.
One recall notice I received last month (July 2003) via mail had an official recall date of Jan 23, 2002. Yes, that is 2002. Appears they decided to take their time sending me the actual recall notice since my car was one of 487,284 that were potentially affected. Always got that car payment bill on time, but when it comes to my safety that didn't seem to be a high priority. I guess it was good I took it in for the recall before the car caught on fire.
There have been numerous problems. I'll list a few: service department stripped oil plug and it leaked oil, transmission shifts jerky, cracked windshield when delivered, only one screw holding in plastic piece under bumper near each front wheel (dragged one for miles when it came loose), strange wax substance on windows when rolled down and back up at times, black film on inside of windshield over time (more than likely pumped from the engine into the cabin - no I don't smoke and no one has ever smoked in my car), glove box broke and had to be replaced (twice), mold smell when using AC (I've had other cars and none of them have had this problem), and numerous squeeks and rattles that I put up with. There are two things about my car that have bothered me the most and required repeat repairs.
One could be classified as being cosmetic. The strip/molding that goes along the middle of the outside of the doors. I have found that when the temperature reaches around 100 degrees the glue that holds the strip melts and lets loose. So, driving in hot weather would lead to the door trim slowly working its way off the door. I have seen other Jetta's with all their door trims missing, so its not something specific to my car. I've taken the car in several times and had the trim replaced. Since they actually remove the trim all together and replace it with a new part the slightly faded color of the car doesn't match the new trim making it stand out. What bothers me the most is the *new* part that they would use would have the same type of glue on it. I had to take the car back many times to have the door trim on the same door replaced!!! One time I asked the mechanic if they could put some stronger glue on it. They wouldn't because it would "void the warranty". And if I decided to glue it that would also "void the warranty".


This is the big one since its about to cost quite a bit and I'm rather upset over it. I called to make an appointment with the VW service department at Northpoint Volkswagon in Little Rock, Arkansas for the wheel housing liner recall/potential car catching on fire thing. The previous day the driver side power window stopped working. It wouldn't go down. They scheduled an appointment for the following Tuesday for me to drop the car off at 7:30 AM (about a week away). So, I scheduled off work and planned to spend the day in Little Rock (since I live within 40 minutes of the VW dealer/shop). A few days later the front passenger side window stopped functioning as well and would not go down. So, I called the VW service department back and they said it was probably the little plastic clips for the window in the door that many VW owners have had break. VW had even extended the warranty (surprising) to cover these clips since they finally realized they screwed up and the clips needed to be metal. I had previously brought my car in for the same problem because of the clip issue before they realized they had a serious problem. Previously the window motors, regulators, and the little clips were bad and were replaced. Anyway, the Monday night at around 9:00PM the day before I was to bring my car in they call and reschedule my appointment another week out (the next Tuesday) because "they were overloaded". So, I had to adjust my schedule for them. I was kind to them on the phone (my wife was cussing them in the background). Rolling forward another week I bring the car in ... and they don't even have me on the list!! I said, "I should be in the computer as having an appointment". The service worker said, "we don't use computers for that". I'm thinking "great! a company that tends to have a tree hugger following keeps a tree killing paper schedule". After finally working the scheduling mess out I drove home in a rental. Atleast they did offer to pay for that - except for the gas. The funny thing was instead of using their OWN new cars to get VW owners to become repeat buyers with newer VWs I drove away in a rental 2003 Toyota Camry. Today, Aug 6, I get a call from the service folks. Turns out the regulator and window motor for both front windows are shot and need replacing. This with labor is going to cost me close to $1,500. I've even had one of those regulators replaced before under warranty. Remember, the car is only a few years old. With this car and VW's track record with poor quality these will more than likely need to be replaced again within the next few years. What a piece of crap!!
About two years ago I stopped telling others that VWs are nice cars. A co-worker bought one after I raved about mine. He has had numerous problems as well. Many of them are repetitive problems as well. Now I warn people how bad Volkswagon sucks - even when they see me get out of my Jetta and ask me what I think of Volkswagon. This is actually a common question. I guess this would explain why VW is advertising more now because previous owners no longer recommend them.
I won't even go into the issues I have had with the service department in Little Rock over the years. Unorganized bunch of monkeys ... it hasn't appeared to have gotten any better with a new service department building and different monkeys - they are still sniffin' the same fingers.
A few links

If you have more links, would like to send me a comment, or have your own story click here.
>>> Click For more stories of actual people that also think Volkswagon sucks <<<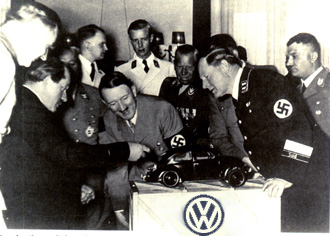 February 2004
Could part of the Volkswagon defects originate from being manufactured in Mexico? Dodge Ram just moved their frames factory to Mexico putting around 500 hard working Milwaukee residents out of work. Never cared for Dodge. Care even less now. Cheap labor to make cheap cars. It appears GM, Ford, and Toyota also have plants there. Ford's police Interceptor fire scandal really shows how much Ford's "Quality is Job $$$" and that they don't listen to the consumer - even when it kills them. Sounds like they went to the school of Volkswagon: "forget quality, el-cheapo labor is the way to go. We don't care 'cause we got the consumers money.".
March 2004
VW to Cut 5,000 Jobs, Warns of 'Lousy' Q1 - They are selling more cars, but are making less money. WTF? The poor quality products with the added costs in the service shops is catching up to them finally. This is the beginning of the end. I always thought it interesting that the people that work at VW dealership service shops don't drive Volkswagens. Sometimes even a monkey knows better.
April 2004
The following chart shows where VW ranks - at the bottom: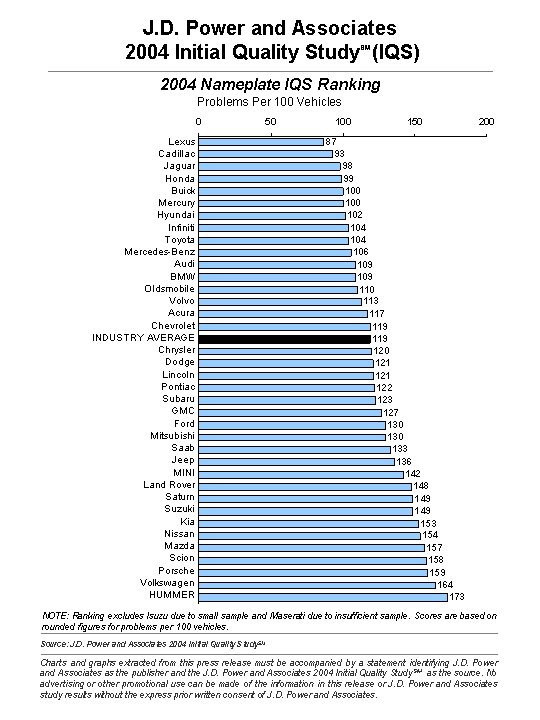 JD Power
May 2004
Its funny that my local VW dealer keeps sending me notifications that my Jetta needs to be serviced when I got rid of the piece of crap several months ago. I don't regret it at all. Today (5/18) I got something in the mail that came from a company that VW or the DMV must have sold my information to. Click here for a scan of the letter. I've also included a transcribed version with my comments in red. Even other companies are taking note how crappy VWs are and are trying to make a buck on you because of it.
June 2005
V-dub still suckin'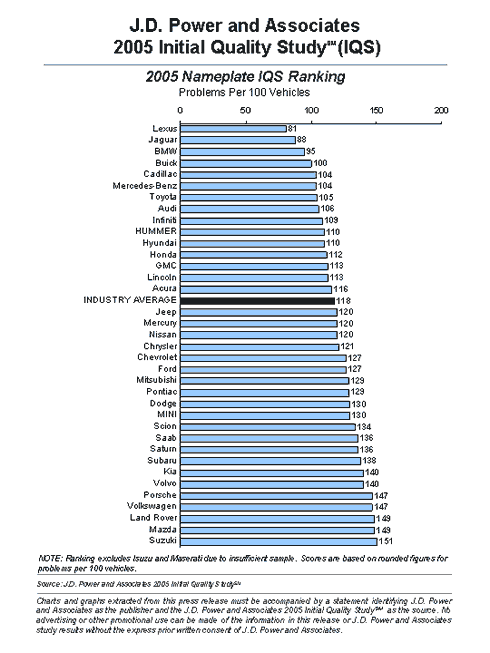 JD Power
August 2006
Still keepin' that spot near the bottom of the list.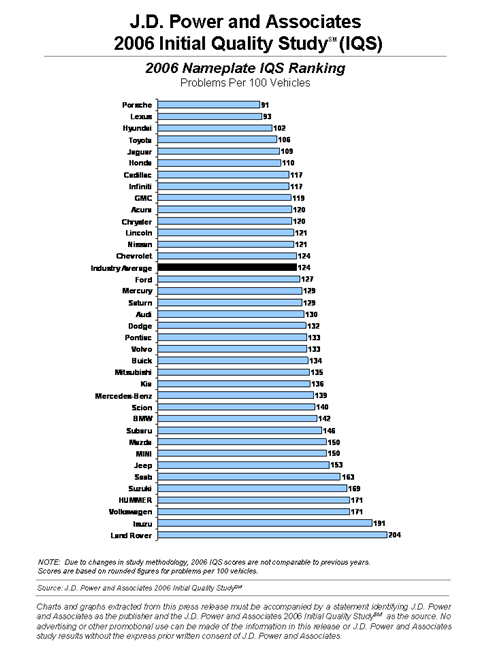 JD Power
July 2007
Still near the bottom of quality.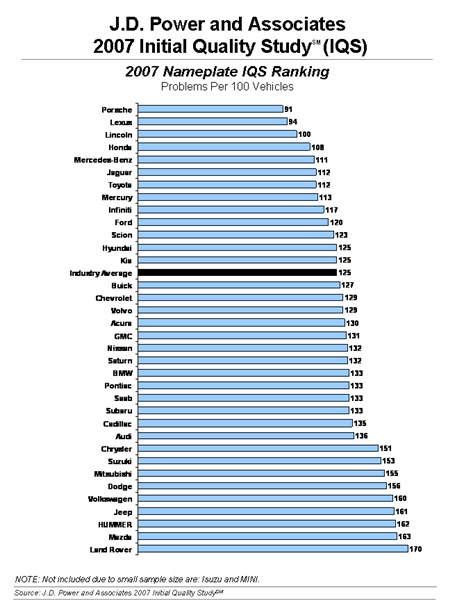 JD Power
June 2008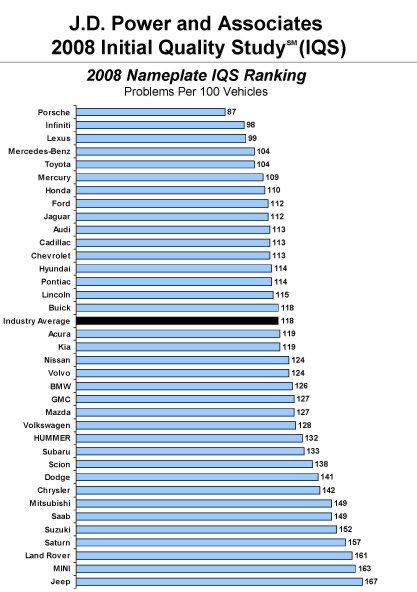 JD Power
So, let's reflect on the past and the VW quality from 2004 through 2008 (Problems per 100 vehicles): Even thought they've improved in 2008 - look at the trend below in the table (up-down-up-down) - they will more than likely have more problems the next year. When looking at the 5 year average it's clear that the top 5 car brands to avoid (unless you enjoy problems) are: Mazda, HUMMER, Volkwagen, Suzuki, and Land Rover. With the gas prices this year I'm sure the Land Rover and especially HUMMER sales will tank. Volkwagen is coming out with ANOTHER friggin SUV in 2009 - the Tiguan (a hybrid name meaning "tiger" and "iguana" - when I read that I just laughed -- sounds more like an African bird) .. oh wait, they call it a compact SUV. It's got a 4 cyclinder in it. Off road? Probably have better luck off-road with a Scion "milk truck". So, getting back to the numbers - VW is still one of the top car brands that suck!

| | | | | | | |
| --- | --- | --- | --- | --- | --- | --- |
| Brand | 2004 | 2005 | 2006 | 2007 | 2008 | 5 year average |
| Scion | 158 | 134 | 140 | 123 | 138 | 139 |
| Dodge | 130 | 132 | 156 | 156 | 141 | 143 |
| Saab | 133 | 136 | 163 | 133 | 149 | 143 |
| Mitsubishi | 129 | 135 | 155 | 155 | 149 | 145 |
| Jeep | 136 | 120 | 153 | 161 | 167 | 148 |
| Mazda | 157 | 149 | 150 | 163 | 127 | 150 |
| HUMMER | 173 | 110 | 171 | 162 | 132 | 150 |
| Volkwagen | 164 | 147 | 171 | 160 | 128 | 154 |
| Suzuki | 149 | 151 | 169 | 153 | 152 | 155 |
| Land Rover | 148 | 149 | 204 | 170 | 161 | 167 |


Read up on Nazi founded Wolfsburg, Germany - where the new Tiguan is to be built.
---
VW Sucks Stories from VW Owner
---
Yes, I know its Volkswagen and not Volkswagon - but some people spell it with an "on" not even knowing it should be "en". It doesn't make a difference - they still suck, and this website has been created to voice experiences and opinions about how bad they suck!
© Copyright 2016